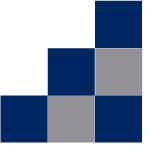 Legacy offers a rich array of experiences and activities, hosting between 10 and 12 events each semester specifically designed to further the growth, development, and leadership potential of students. From hosting prominent leaders from diverse fields and industries and conducting challenging outdoor experiences, to facilitating reflective workshops and holding our annual favorites (e.g. Homecoming reunion, etiquette brunch), there is never a lull in Legacy's efforts to challenge our students, stimulate thought, and push the boundaries of what it means to live a life of leadership.
Legacy Retreat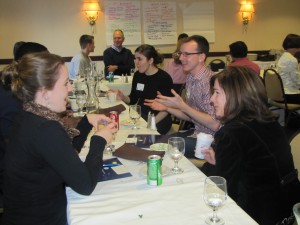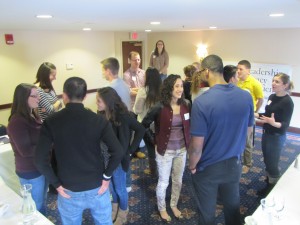 Each January, with much anticipation, the new cohort of Legacy students gathers for the first time for the Douglas A. Bernstein Leadership Legacy Retreat. At this kick-off event, the students, from all across campus, spend the early afternoon getting to know one another and discussing what it means to leave a legacy of leadership. Later the afternoon, the students are joined by their Faculty/Administrator and Alumni Mentors who will be helping them throughout their journey over the coming year. Monday gives way to deeper discussions and personal reflection on how each student can enhance their own leadership abilities. The annual retreat brings Legacy Students (and their mentors) together for the first time, and lays a strong foundation for a year of challenges and growth.
Etiquette Brunch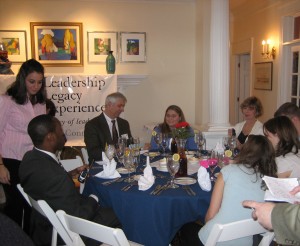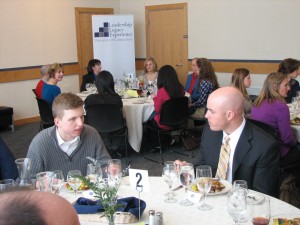 On a Sunday afternoon in February, Legacy Students and their mentors gather to attend the annual etiquette brunch. With 'etiquette expert' Ms. Teresa Brown leading the way, students and mentors alike are guided through a five course meal, discussing and practicing proper dining and business etiquette. Brown provides helpful hints and tips to those in attendance, on both subtle and not-so-subtle ways to leave a positive impression of oneself in a similar social atmosphere. Students and mentors also have an opportunity to interact with one another, as well as Ms. Brown, asking questions as she discusses the finer points of etiquette. All those in attendance leave with warm smiles and a greater knowledge of everything from which fork to use, to whether to drink to your own to toast.
Bi-Weekly Reflections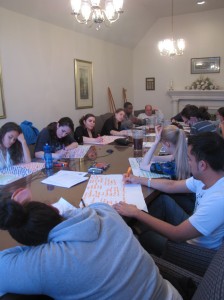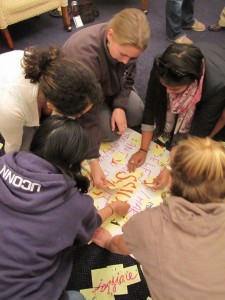 Throughout their experience, Legacy students meet every two weeks to catch up with one another and reflect on their leadership journey. Each session typically starts with a creative and interactive activity that sets the tone for the evening and then moves onto topics that go far beyond such traditional topics as communication or conflict resolution.  From exploring students strengths to risk taking and failure, students are challenged to consider what it will truly mean to live a life a leadership beyond UConn. The bi-weeklies are one of the few Legacy experiences that are just for the students in the program.  Most of the other Legacy experiences invite and include the Legacy Mentors and/or the broader campus community.  Our Legacy students often mention how much they enjoy the sessions as an opportunity for them to sit back, reflect, and make connections while learning from one another.
Land Navigation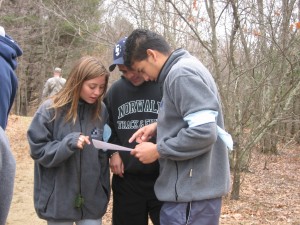 Up a creek without a paddle…well not quite. But early April often finds Legacy students in the middle of the forest facing the challenges of navigating their way through and eventually out of the woods. Split-up into teams, the students have to work together to orient themselves, determine distances, and locate various points throughout Mansfield's Fenton River area – with nothing more than a compass, a small note pad, and water.  Facing these challenges the students quickly realize effective communication and teamwork are critical to success. Legacy Students not only enjoyed being pushed out of their comfort zones and the challenge of navigating through the woods, but also benefit by the reflection and facilitated discussion that follows.
Leadership in the Arts
In 2010, Legacy began partnering with the School of Fine Arts to host a series of unique experiences focusing on 'leadership in the arts'. Initially this partnership included a collaboration with the SFA and the Orpheus Chamber Orchestra Orpheus of New York City. One of the few self-governing ensembles playing today, Orpheus performs without a conductor and rotates musical leadership roles for each performance. Leadership is shared among Orpheus members on issues ranging from administrative and management issues to how the last note should be played. Components of this partnership have included a panel discussion with Orpheus representatives, observing an Orpheus rehearsal In NYC, and finally attending a live Orpheus performance.  The collaboration with the SFA recently expanded to include a trip to the Metropolitan Opera where students are able to attend a dress rehearsal, meet with performers and officials from the Met, and then attend an evening performance.  This full-day of opera is one of the many truly unique opportunities students are exposed to as part of Legacy and we are grateful for our collaboration with the School of Fine Arts.
Whitewater Rafting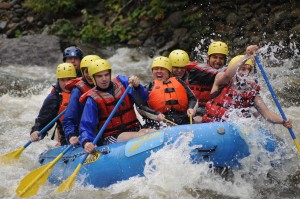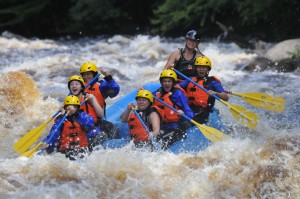 Legacy Students and Mentors turn out every fall for a thrilling rafting trip down the Deerfield River in western Massachusetts. With the support of trained river guides, participants face the rapids and test their communication, teamwork, and leadership skills. As one of the favorite experiential activities, both students and mentors are challenged to work as one during this demanding outing through the rapids. Everyone involved bravely faced the trials of the day, and whole-heartedly welcomed the fun and adventure of a new experience –  even those who end up being 'unintentional swimmers'.
Legacy Homecoming Reunion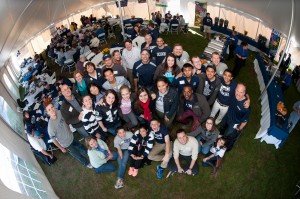 Each Fall Legacy hosts its annual reunion event as part of the University's homecoming football game at Rentschler Field, in East Hartford.  With close to 100 current and former Legacy students, Faculty Mentors, Alumni Mentors and administrators present, this event has grown to become an informal way for all involved with Legacy to catch-up and share the various ways we continue to leave our legacy on campus and beyond. Before the game, everyone enjoys re-connecting at the Alumni tent and then, upon kickoff, students, alumni, mentors, family, and friends continue the day cheering the Huskies on to victory.  The annual Legacy Reunion has become an experience that is looked forward to by the entire and ever-expanding Legacy family.
Legacy Speaker Series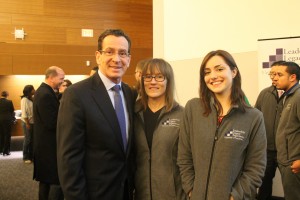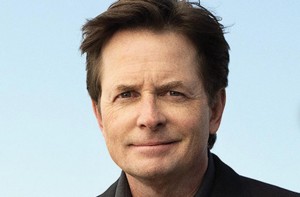 There are many aspects of Legacy that set it apart. However, the Legacy Speaker Series is in a class by itself – within Legacy and across campus. This series invites local, regional, and national leaders from a multitude of fields and industries to share and explore the concepts and applications of leadership in their areas of expertise. Legacy, with its multi-disciplinary approach to exploring leadership, has hosted such varied topics as politics, public education, robotics, genomics, sports broadcasting, civil rights, Parkinson's research, space exploration, health care and much more. Partnering with schools and colleges across campus, the Legacy Speakers Series invites the entire campus community to explore and learn more about emerging topics that will affect all of us as individuals, a University, a nation, and a global community.
Click here to learn more about the Legacy Speaker Series.
Douglas Bernstein Leadership Legacy Banquet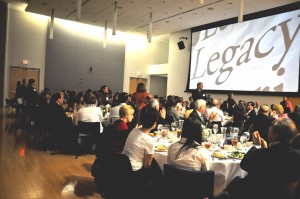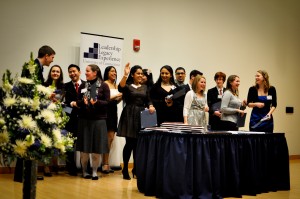 Members of the Legacy family, including students, mentors, staff, and special guests come together each January for the annual Douglas Bernstein Leadership Legacy Banquet. This special evening is an opportunity to acknowledge and celebrate the achievements of the previous year's cohort and welcome the incoming cohort. Guests in attendance often include the President, Vice President and other senior administrators, as well as prominent alumni, faculty members and parents of the previous year's Legacy students. This classy but intimate event concludes with students sharing some of their memories and lessons learned during their Legacy experience.